Celebrate the most beautiful moments of the year with Princess Pure
Lay out all kinds of trays with meat, fish and vegetables on the table and you are ready to grill! For many, the raclette is an established part of Christmas traditions, especially in mainland Europe. Raclettes can be used in a romantic setting (also during Christmas) or with friends and family. Do you already have plans set for Christmas dinner? We would like to show you some options from our Pure series.
More about Princess Pure
At Princess, we like to bring nature into our homes. Inspired by the natural trend, the Pure range has been specially developed. All unique appliances in this modern range have a natural look thanks to the use of bamboo. Bamboo is known as a very strong and durable material. It is heat resistant, does not deform and also looks very nice on the table. This makes bamboo the ideal material for baking trays and raclettes.
Modern & corona-proof gourmets
The new and modern table grills: prepare stylish dishes at the table with your own (corona-proof) baking tray. Also ideal for vegan lifestyles or allergies. Plates and baking trays can be replaced so that both hot and cold dishes can be served.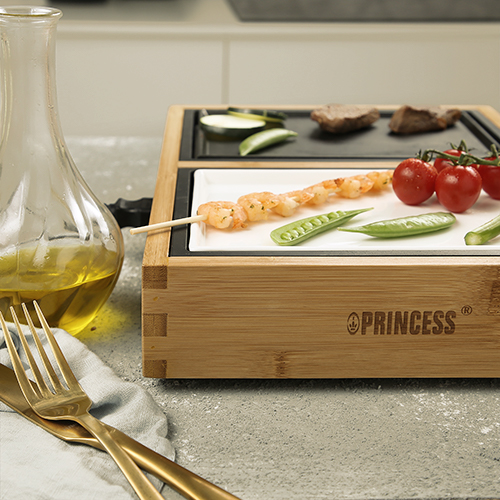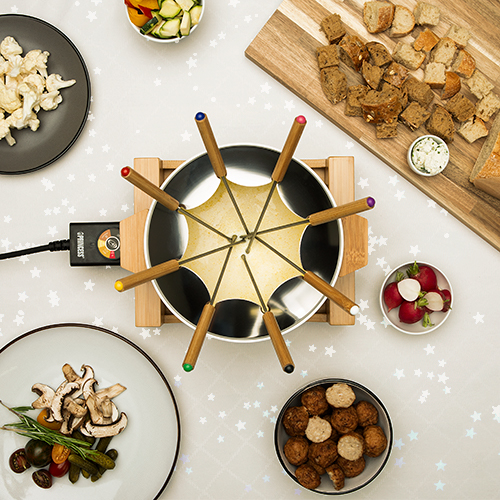 Fonduing luxuriously
Is fonduing dusty and old-fashioned? Not with the Princess 173030 Fondue Pure. This luxurious fondue set has a bamboo casing and a large fondue pan to fondue with 8 people. Using bamboo and a white pan, this fondue pan looks beautiful on a modern table and is also very safe to use. So invite all your friends for a trendy fondue evening and enjoy cheese, broth or chocolate fondue together.
A real eye-catcher
The luxurious, Princess 162910 Raclette Pure 8 with bamboo finishing is a real eye-catcher on any table. What's extra handy is the unique parking deck, which you can use to literally park your hot pans so they don't stain or scorch your beautifully set table. The two rotating grill plates have a flat and ribbed side so you can choose between grilling and raclette. This luxury raclette set is suitable for 8 persons.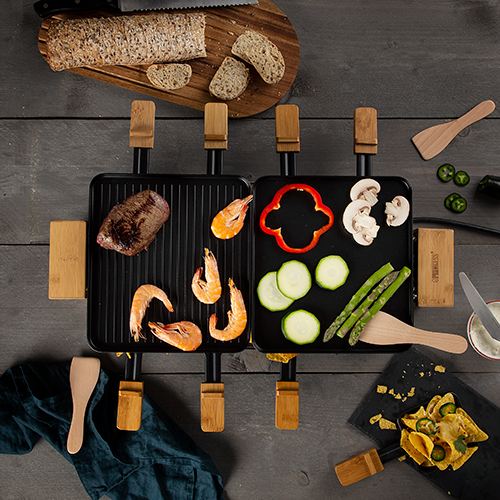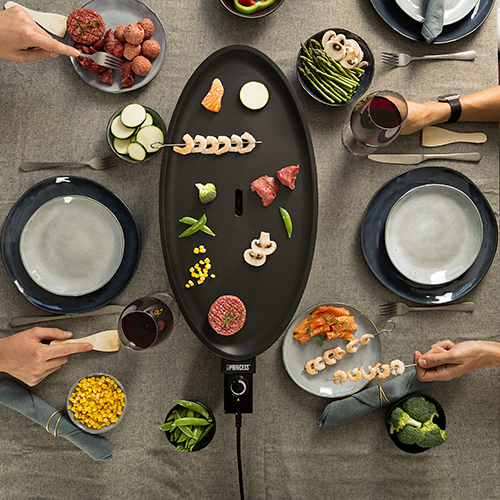 Dining in style
With this luxurious baking tray with trendy bamboo feet, you can dine in style. Thanks to the extra large baking tray, you can dine together with your family or a large group of friends. The cast aluminium baking tray has a non-stick coating which makes the Elypse Pure easy to clean after use.
Unique baking tray
With its high-quality bamboo housing and a unique white baking tray, the Princess Table Chef Pure fits seamlessly into any modern interior. The ceramic coating ensures perfect heat distribution and is also scratch-resistant. The handy grease collection tray in the middle ensures that all fat is collected. Enjoy a dinner for 4 with the stylish Princess baking tray. A modern addition to any table.