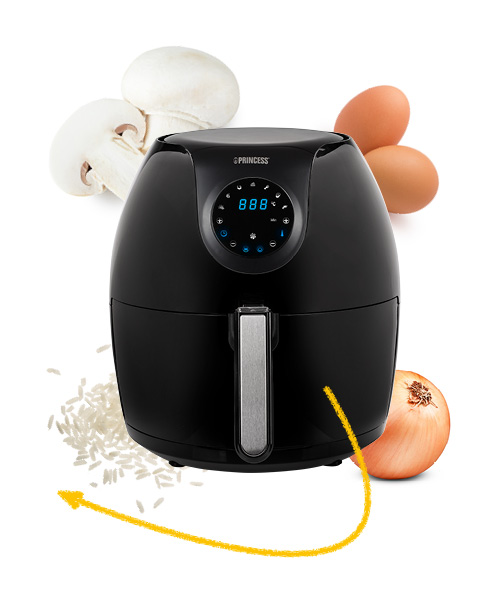 Ingrediënten (12 bitterballen)
• 2 teentjes knoflook
• 1 grote ui
• eiwit (van 4 eieren)
• 300 gram kastanje champignons
• 350 gram risotto rijst
• 200 gram (bruine) paneermeel
• 2 eetlepels olijfolie
• 200 ml water
• gemalen peper
• extra kruiden naar keuze
Benodigdheden
• Princess Aerofryer
• Een braadpan
• Ijsknijper of een paar lepels
• Diepvriezer
Bereidingswijze
• Verwarm de Aerofryer voor op 80 graden of gebruik de voorverwarmstand op de digitale uitvoering.
• Maak de knoflook en ui schoon en snijd deze fijn.
• Sla het eiwit goed los in een mengkom.
• Doe één eetlepel olijfolie in de braadpan.
• Snijd de kastanje champignons in hele klein stukjes en bak deze aan in de braadpan.
• Voeg vervolgens de knoflook en de ui toe en fruit ze kort. Laat de knoflook niet verbranden, dan wordt deze bitter van smaak.
• Voeg de risotto rijst toe en schep dit geheel goed door elkaar.
• Voeg het water toe, breng het aan de kook en laat het op laag vuur zachtjes borrelen zodat de risotto gaar wordt.
• Schep het risotto mengsel, wanneer deze gaar is (na ongeveer 15 minuten), uit de pan en laat deze afkoelen.
• Voeg peper en eventueel nog wat extra kruiden toe naar smaak.
• Knijp hiervan vervolgens mooie balletjes met behulp van de ijsknijper óf een paar lepels.
• Vries de balletjes licht aan door ze ongeveer 15 min. in de vriezer te doen.
• Haal ze daarna door het eiwit en het paneermeel.
• Plaats de balletjes in de Aerofryer en bak ze af op 190 graden in ongeveer 12 minuten.

Eet smakelijk!
Klaar te maken met
Princess Aerofryer (diverse modellen)
Vind je dit een lekker recept?
Deel het met je vrienden of familie!
Terug naar alle recepten